Bonjour, Hola
こんにちは, Hello!
TranslateCI makes human translations for developers as easy as $>git push
TranslateCI
Reach new markets without breaking a sweat
TranslateCI provides high quality, automated, and human translations for your application. Just push your code. We'll take care of the rest.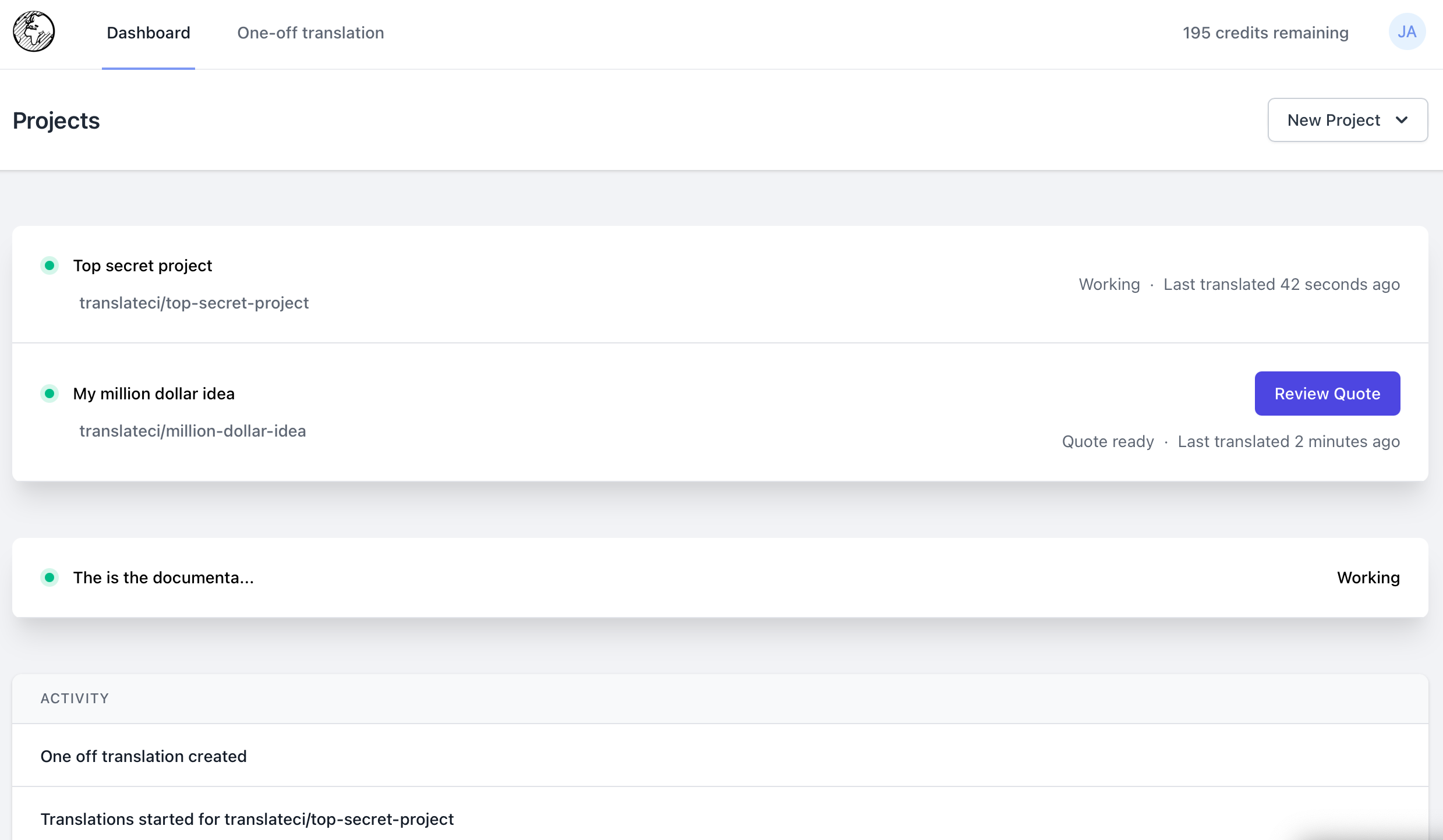 It just works
TranslateCI takes the pain out of localizing your app
No more hiring translators, working out of Google Docs or worrying about keeping your translations up to date.
Connect your Git repository
TranslateCI monitors your git repository, automatically translates new phrases and makes a pull request.
Pro translators
TranslateCI uses high quality, professional human translators to localize your app. Nothing gets lost in translation!
70+ languages supported
No matter what market you're going after, TranslateCI has you covered.
Fast turnaround
Most translations can be done in well under a day, so there's no long delay when deploying new features.
One-off translations
Need to translate phrases that aren't in your code base? Just paste them in to the dashboard and we'll get them translated.
Own your translations
We don't charge you monthly fees for phrases you've already translated. Simple credit-based pricing makes sure you'll only pay once to translate a phrase.
Connect your Git repository
Once you connect your Git repository to TranslateCI, it scans your application and translation files to find phrases missing from your desired language.
TranslateCI provides you with a quote for your initial translation. After you accept that, professional human translators get to work translating those phrases.
When they're finished, you'll receive a pull request back to your Git repo with the new phrases integrated into your translation files.
Keep your applications up to date effortlessly
Any time you push new code to your repo, TranslateCI scans for new and updated phrases. When it finds them, it automatically translates them and syncs them back to your application.
TranslateCI lets you set it and forget it. Set up your application one time and TranslateCI will handle your translations from there on out.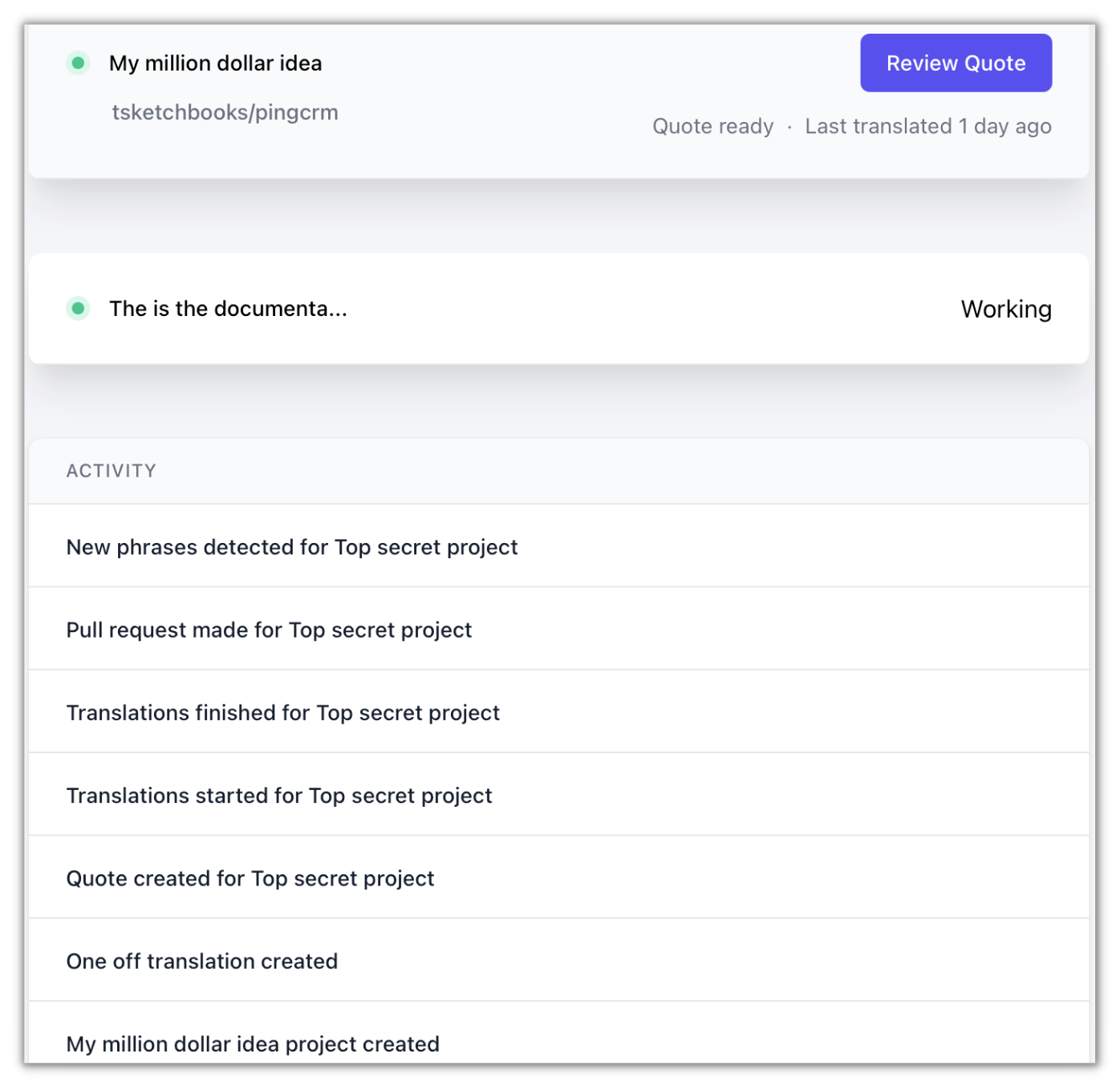 TranslateCI makes localization easy
With over 70 languages supported, TranslateCI can help your app reach just about any new market.
If you're tired of working out of spreadsheets, hiring translators or getting friends to help with your app, and you want a solution that just works, give TranslateCI a try.
Simple, transparent pricing
One monthly plan or pay as you go.
TranslateCI Pro
300 credits included each month. Additional credits at $.17 each. 1 credit = 1 word.
What's included
Professional human translators

New phrases automatically translated when you push your code

70+ languages supported

Amazing support
You can see exactly how much it will cost to translate
your app before you are asked for billing info.
Pay as you go
You can pay as you go without subscribing to a monthly plan for $.21 per credit. New phrases will not be automatically translated without your approval.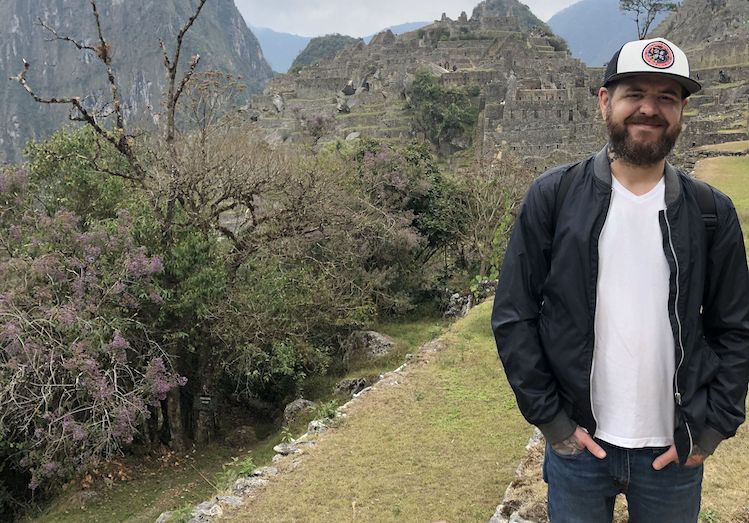 Proudly bootstrapped
I'm here to help
TranslateCI is a company of one. That means when you reach out to support, you'll be talking directly to the founder. My name is Jack, I'm a developer, and I want to help you localize your app.